Concorde Collection
I started collecting Concorde memorabilia by accident but now it's become a "thing." I think the Concorde had a lot of meaning for people over and above the elite, faster-than-sound travel aspect. It represented Progress and a vision for the Future.
I did get to fly on the Concorde right before it ended service in 2004. In 2007, I hosted a Concorde dinner but I'm overdue for another one.
In 2010, I wrote an article on the collection for Core77. This led to a piece in COLORS magazine on my collection in 2011–with much better pictures than mine (because they were taken by Michael Winokur).
British Airways Concorde In-flight Service Collection:
I mostly only collect the last fit of the British Airways Concorde but I have a few items from earlier fits of the BA Concorde as well as the Air France Concorde.
Concorde Placesettings:
This is one of 16 full 21-piece placesettings I have, each containing:
16 Large, medium, and small plates (EC 1140, 1139, and 1138)
16 Large and small bowls (EC 1141 and 1137)
16 Large and 15 small oval plates (EC 1142 and 1144)
15 cups and 16 saucers (one broke on arrival) (EC 1135 and 1136)
16 rectangular plates (EC1104)
17 butter pats (EC 1143)
16 Knives, forks, spoons, and coffee spoons (EC 2081, 2080, 2079, and 2082)
16 napkin rings (EF 5089)
Plus:
21 Champagne glasses (EG 1055)
34 Wine glasses (EG 1050)
22 Water glasses (EG 1049)
2 Mother of pearl caviar spoons
24 Authentic Ewart Lidell Celado napkins and place mats
3 Pairs, salt and pepper shakers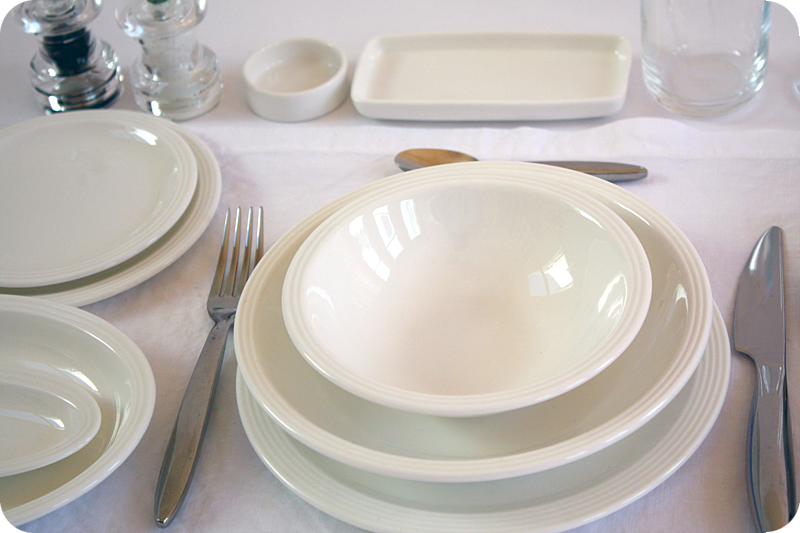 Concorde Barware:
16 drink coasters
4 bottle stoppers (2 shown here)
1 champagne bottle stopper
1 collapsable corkscrew
8 drink stirrers from an earlier fit
2 drink stirrers from an even earlier fit
5 galley towels
1 Concorde Galley Box (filled with 46 water and wine glasses but from BA First Class service, not Concorde service). Dimensions: 16.25″ deep x 11″ high x 11.25″ wide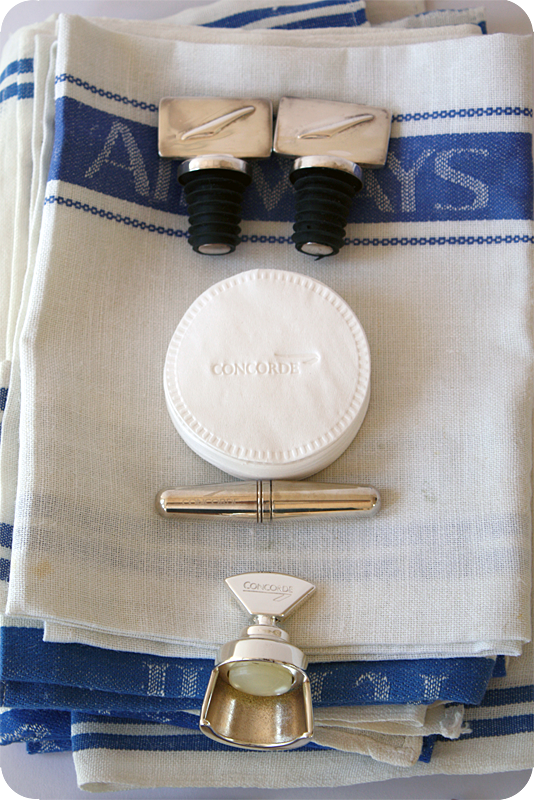 Concorde Servingware:
1 sterling silver serving tray
1 sterling silver ice bucket
1 sterling silver creamer
2 porcelain creamers (one shown)
1 glass vase
2 sterling silver tongs
4 stainless steel serving forks
1 stainless steel label
1 coffee thermos
1 stainless steel tea pot
Concorde maintenance manuals on CD-ROM (PDFs) (not shown)
Concorde Gift Items:
These are a wide array of gift items from several different fits throughout BA's Concorde flights:
1 Binoculors
2 Sterling silver photo frames
1 Sterling silver paperweight
1 Dual alarm clock
1 Small desk clock (not shown)
1 Food dictionary
1 Business cards directory (not shown)
1 Notebook
1 Leather-bound flask
1 Stainless steel flask
1 Deck playing cards
1 Set of 6 greeting cards
1 Aluminum pen
1 Sterling silver Cross pen
2 Chrome Cross pens (not shown)
1 Pair sterling silver cufflinks
1 Sterling silver tie tack
4 Aluminum luggage tags (2 shown)
1 Lighter
1 Pack matches
1 Key ring
1 Hiduminium ruler
1 Sterling silver money clip
1 Leather and felt-lined jewelry box (not shown)
1 Chromed round jewelry case (not shown)
2 Tartan blankets (1 shown)
2 Ties (different styles)
1 Polo shirt
1 Flight attendant scarf
1 Luggage tote bag (older fitting)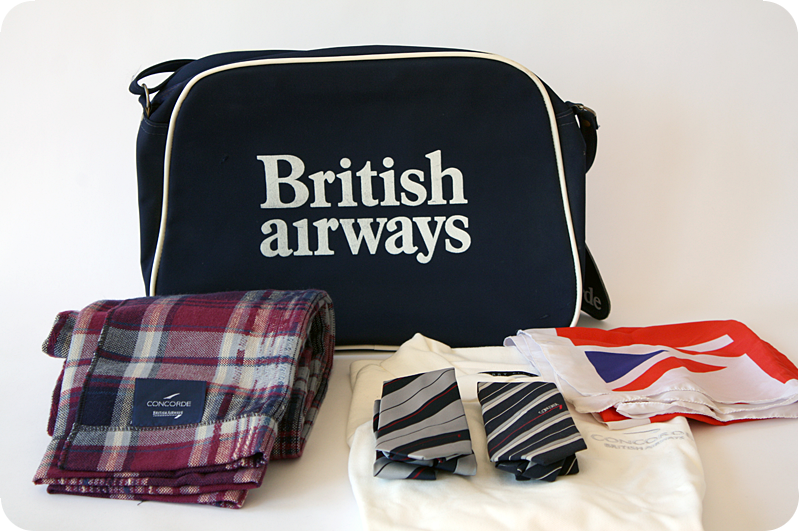 Concorde Passenger Information Pack 1:
This is a collection of items from the seat in the last service of Concorde. It includes a menu, safety card, instructions for using the stereo system, inflight magazines, shopping catalog, 3 post cards, and a leather notebook. I have two of the leather folders that carry these items.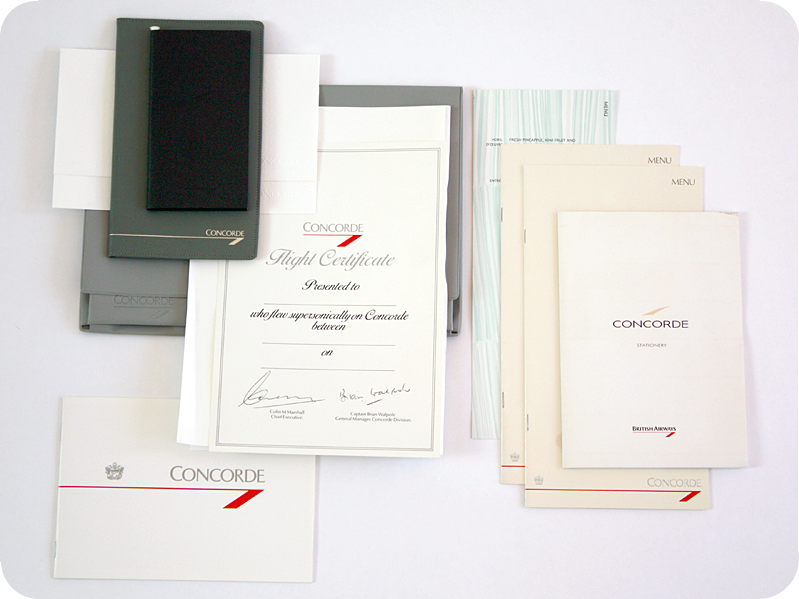 Concorde Passenger Information Pack 2:
An earlier design, these inflight items include: blank flight certificate, 3 menus, information booklet, several pieces of stationary, and a grey plastic envelope.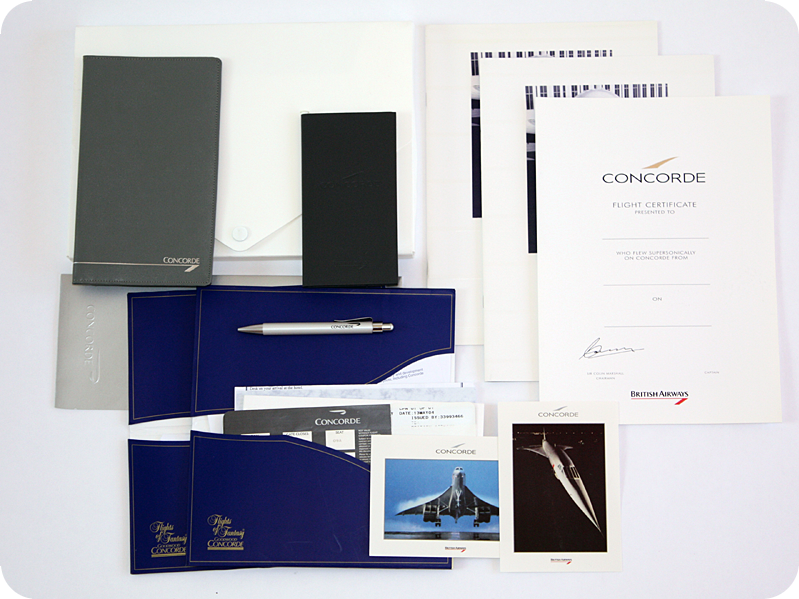 Concorde Passenger Information Pack 3:
An even earlier design for in-flight brochures, including: a blank flight certificate, inflight magazines, 2 complete tickets with itineraries and envelopes, 4 post cards, an aluminum pen, leather notebook, leather bill fold, and white plastic envelope.
Concorde Passenger Information Pack 4:
This is a collection of inflight items from the very first design for Concorde flights. It includes: a signed flight certificate, stereo system instructions, flight timetable, post card, information booklet, baggage tag, billfold, and a blue plastic envelope.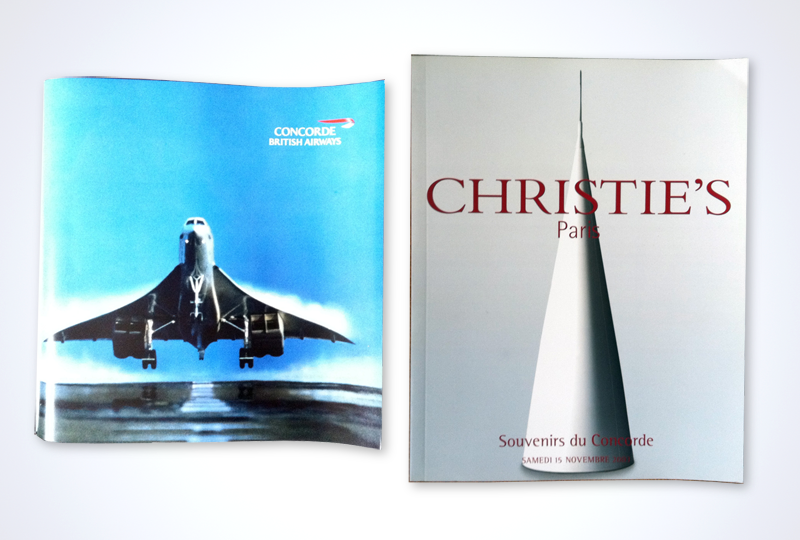 Concorde Brochures
One of these is a brochure for passengers and the others is a brochure from the Christie's auction of Concorde memorabilia.
Air France Concorde Items:
I don't collect much from the Air France Concorde but these pieces are beautiful, some given to me as gifts.
1 letter opener
1 broach
2 sleeping masks
2 bottle openers (1 shown)
1 tray of passenger towells
1 vase (not shown)
1 ashtray
2 books of matches (two different styles)
1 Christie's Concorde Auction Catalog (shown above)