Selected Speaking & Moderating
Whether keynotes, workshops, breakfast meetings, breakouts, or full classes, Nathan can inspire while sharing insightful, valuable experience and tools to a variety of audiences.
Nathan has ample experience speaking and moderating in a variety of events and communities. Below are just a few, selected examples. He can help plan and program events as well as lead discussions, provide context, illuminate issues, and lead discussion.
Nathan chaired and co-moderated the AIGA GAIN conference in 2014 (videos now online). In 2012, Nathan co-moderated the AIGA ComPostModern conference and co-led an innovative summit for sustainable mobile phone industry leaders.
Selected Topics
business strategy       total and premium value       meaningful innovation       sustainable design & business       reinventing education       science fiction prototyping       post-consumerism
Speaking and Moderating
Nathan speaks on a variety of subjects, from Innovation and Business Value to Sustainability, Education, and even Science Fiction.
Nathan Shedroff is an unparalleled thought leader in the areas of business, innovation, design, and sustainability.
As the founder and chair of the three ground-breaking Design MBA programs at California College of the Arts (CCA) in San Francisco, CA, he's created a successful reimagining of what a business degree for the 21st Century can be. Now three programs, this approach prepares the next-generation of innovation leaders for a world that is profitable, sustainable, ethical, and truly meaningful by uniting the perspectives of systems thinking, design thinking, sustainability, and generative leadership into a holistic strategic framework.
He's started several companies, including vivid studios, one of the first Web services firms on the planet. At that time, his consulting work has focused on helping organizations create ventures online.
Nathan is a leading business thinker, helping advance the understanding of total value, customer experience, and meaningful business. He is a pioneer in Experience Design, Interaction Design and Information Design, is serial entrepreneur, and researches, speaks and teaches internationally about meaning, strategic innovation, and science fiction interfaces.
Education: Nathan earned an MBA in Sustainable Management from Presidio Graduate School in 2006 and a BS in Transportation Design from Art Center College of Design in 1989.
Professional Highlights: He worked with Richard Saul Wurman at TheUnderstandingBusiness and co-founded vivid studios, a decade-old pioneering company in interactive media and one of the first Web services firms on the planet. vivid's hallmark was helping to establish and validate the field of information architecture, by training an entire generation of designers in the newly emerging Web industry.
Selected Books
Nathan writes compulsively, both alone and with others:
Make It So
Many designers enjoy the interfaces seen in science fiction films and television shows. Freed from the rigorous constraints of designing for real users, sci-fi production designers develop blue-sky interfaces that are inspiring, humorous, and even instructive. By carefully studying these "outsider" user interfaces, designers can derive lessons that make their real-world designs more cutting edge and successful.
Making Meaning
In a market economy characterized by commoditized products and global competition, how do companies gain deep and lasting loyalty from their customers? The key is in providing meaningful customer experiences.
Writing in the tradition of Louis Cheskin, one of the founding fathers of market research, the authors of Making Meaning observe, define, and describe the meaningful customer experience. By consciously evoking certain deeply valued meanings through their products, services, and multidimensional customer experiences, they argue, companies can create more value and achieve lasting strategic advantages over their competitors.
Design Strategy in Action
A book about how business education needs to change to be more effective, creative, and more entrepreneurial.
Experience Design 1.1
Experience Design 1.1 is the update to the seminal book Experience Design 1, published in 2001. This update expands the text in the descriptive chapters and adds may new online and offline examples.
Design is the Problem
Design makes a tremendous impact on the produced world in terms of usability, resources, understanding, and priorities. What we produce, how we serve customers and other stakeholders, and even how we understand how the world works is all affected by the design of models and solutions. Designers have an unprecedented opportunity to use their skills to make meaningful, sustainable change in the world—if they know how to focus their skills, time, and agendas. In Design Is the Problem: The Future of Design Must be Sustainable, Nathan Shedroff examines how the endemic culture of design often creates unsustainable solutions, and shows how designers can bake sustainability into their design processes in order to produce more sustainable solutions.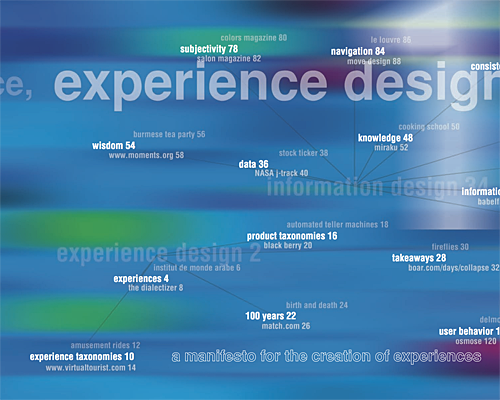 Experience Design 1
Experience Design 1 is a book about today's intersection of disciplines, such as: interaction design, information design, visual design, and more related methodologies are just parts of the whole. Experience design is as much an approach and ethic, as it is a field of work. Experience Design 1 It is a way is not only a way of designing online experience (such as websites), as but more importantly, it is a way of approaching all design, including products, services, environments, and events.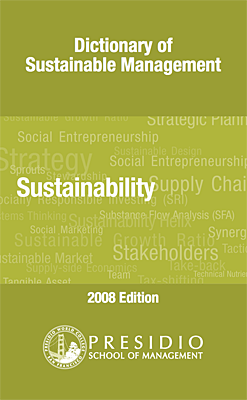 Dictionary of Sustainable Management
The Dictionary of Sustainable Management is an evolving dictionary for business leaders and students of sustainability and business-related terms. It is a project of the Presidio School of Management. The purpose of this effort is to help people better understand how sustainability concepts are creating new understandings in the worlds of business, government, and society. The 2009 printed edition includes over 300 terms and definitions and 12 images. The online dictionary is open in that anyone can comment on any definition. Periodically, the creators of the dictionary compound comments into printed editions.
Experience Design 1 Cards
Experience Design 1 Cards are a tool for designers to use during their brainstorming and idea generation. These cards correspond to the topics in Experience Design 1 and Experience Design 1.1challenge designers and developers to think further and conceptualize around a broader experience. Each card contains several key questions to address during the design phase of a product, service, or event project and stimulates thinking around more successful experiences. Explore the companion book, Experience Design 1.1, to the design cards, which discusses, in depth, the topics addressed
Testimonials
"Nathan is a simply amazing product designer. He is magic"
—Reid Hoffman, Entrepreneur. Product Strategist. Investor, co-founder, LinkedIn
"Nathan was, is and will always be a superstar. It was a pleasure working with Nathan – and (of course) collaborating with him. Our speaking engagements remain some of my fondest memories."
—Chris Tacy, Strategic Services @ Mozilla
Book Nathan
For speaking engagements, use the form below.