Businesses and Strategic Consulting
Aside from consulting on several businesses, including online ventures, I've helped start a few myself (as an entrepreneur). This is the best way to understand what it means to start and run a company.
Branding, Naming, & Identities
WTBA Logo
Women's Tennis Benefits Association (2006)
Hive Logo
This logo was for a community-supported solar association. (2006)
DriveNeutral Name and Decals
I built several generations of decals for this carbon-offsetting service as well as helping determine the name. (2004-2008)
Vibrant Events
This logo was for a sustainable events planning firm. (2006)
Deluxe Business Solutions Name & Logotype
Azure Name, Logo, & Brand Strategy
Jux2 Logo
ICC Logo
Internet Content Coalition (1998)
Admiral Construction Logo
vivid studios Logo
This was the second incarnation of the logo (the first was purely 2D.
Clinton Auto Leasing Logo
Syndesis Logo & Icon System
Websites
I've built a lot of websites in my day. Most of these are now, sadly, gone (that's the nature of the Web). Surprisingly, however, a couple are still around. Still, in their day, many were ground-breaking sites. These are just a selection…

DMBA Programs
In a return to my roots, I just build a new web presence for the DMBA programs at California College of the Arts that I lead. (2014)
Dictionary of Sustainable Management
The original site is gone but the dictionary lives on in a new design. (2006)
Jux2
There were many iterations of this innovative search engine that I lead and produced. (2004) more >
Herman Miller Red
I was the main customer experience strategist consulting for Herman Miller on their new division, Red. It was a fantastic team and company that got swamped in the first big dot.bomb downturn. (2000-2002) more >
Azure Wellness System
I designed and built the website for this company I helped found. (2000-2002) more >
vivid studios
I was the creative director for several incarnations of the vivid site throughout its ten-year history. I was privileged to work with several great visual and information designers. more >
AIGA Advance for Design
I designed and built the first version of this community. After two years, the website was pulled into the overall AIGA website and now no longer exists. more >
Internet Content Coalition website
Internet Content Coalition (1998)
Kellogg's Cereal Mixer
In 1998, Kellogg's, Mattson, and Cheskin worked on this groundbreaking customer cereal design, commerce, and fulfillment system. more >
Digital Interfaces
Before the Web (yes, there was a before), I designed interfaces for a range of products and media.
EcoFactor Interface Development
In 2007, I was asked to consult on the interface of a new kind of home control system. more >
Deluxe Business Software
In 2002, I joined three friends to create a Web-based successor to Exchange and the sorry state of calendaring applications available. We developed a revolutionary approach to online calendaring. I was in charge of the interface for the front-end and back-end and, as a result, became an expert at time zones and Daylight Savings Time. We sold the company in 2004. more >
Photopia
Interface for MacOS photo-editing application in development. (2002)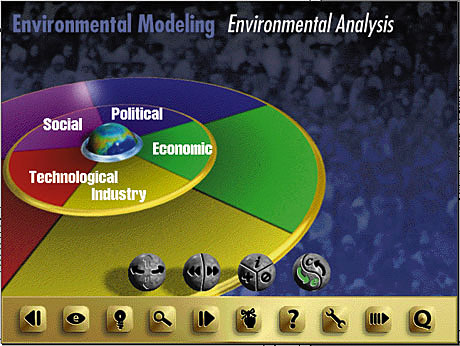 CRUSH
This was a ground-breaking product that encapsulated the market-based business strategy approach pioneered by legendary strategist, Regis McKenna. There is still nothing like it as it was an application focused on developing business strategies, starting with customer insights, through competitive research and positioning. These were more than the templates used to this day by businesspeople and business students alike. It was application software complete with tutorials and case studies. Think of it as Excel or Word for developing business strategy. I was involved with the strategy, design, and interaction of the product and in order to conceptualize the outcome, I had to learn from Regis his methods and tools for developing sound strategy. It was my first encounter with smart market strategy and has informed my work to this day. (1994) more >
Passage to Vietnam
Prototype interface development. (1993)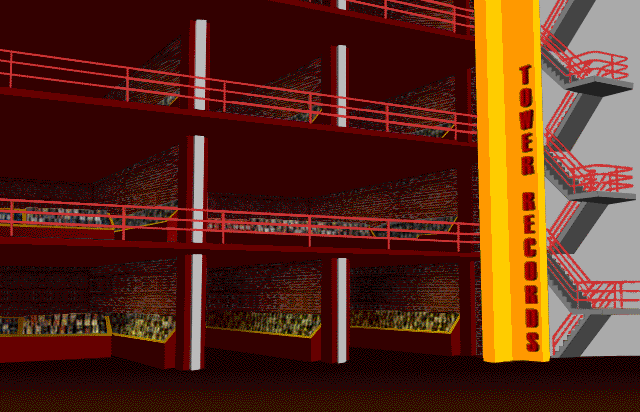 eShop Tower Records online store
Another now failed and abandoned online platform, eShop was a separate online service that was to feature many traditional retailers. This screen was the very start of the Tower Records online store, facing a virtual mall, we were developing before the project was cancelled in 1995. more >
SONY Tradecom (for MagicCap)
This was a prototype application for General Magic's MagicCap OS and device. It was an early system to trade stocks online funded by SONY in 1991. more >
ETAK Navigator
In-car navigation system interface (information and visual design). (1993)
vivid developed the system interface for this in-car CD-ROM-based navigation product. ETAK contracted vivid to design and document the interface standards to SONY's latest after-market navigator with Global Positioning Satellite (GPS) sensor and color active-matrix screen. The device is installed in the dashboard near the driver and allows both drivers and passengers to view maps and related travel information from regional CD-ROMs.
The interface encompasses color photographs and information on sights, restaurants, hotels, and historical information from Fodor's travel guides and Trailer Life RV Guides. The system allows users to filter the information and see related photos. Map portions of the system constantly track the driver's car with relation to internal map databases and GPS. more >
Fairlane Mall Directory Kiosk (prototype)
This was a kiosk directory to stores and merchandise in a large shopping mall. It's interface was built to be used by customers looking for a variety of things in a variety of ways. The kiosk allows people to navigate the mall's three floors visually as well as search textually by name, keyword, and category. It also was designed to print a route map at the station so that users could follow it to their destination. more >
Print and Information Design Projects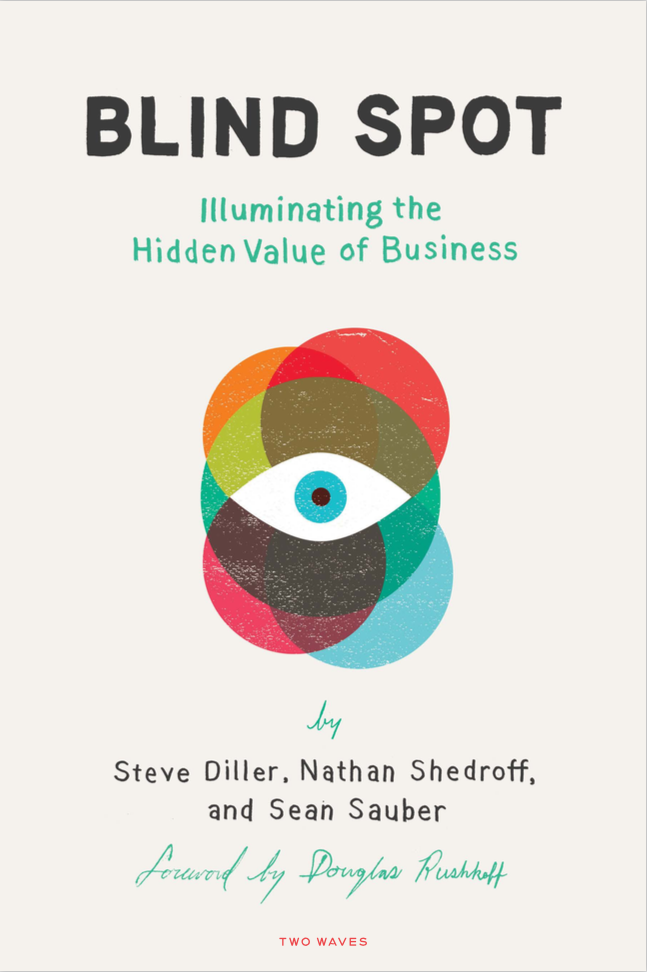 Blind Spot book
Blind Spot
My co-authors and I worked for 5 years on this book about the hidden value most businesses miss when they only focus on traditional techniques and quantitative metrics. I describes the 5 kinds of value exchanged between customers and organizations and how these are missed by most businesspeople. It describes a new tool, the waveline, for designing more valuable relationships deliberately (instead of accidentally or merely intuitively). More >
Make It So book
I co-authored this book with Chris Noessel in 2012. This investigation compiles over 150 lessons for interfaces from science fiction TV and films. more >
MBA in Strategic Foresight
I helped create this new program from our DMBA program. It's a unique business program focused on foresight. more >
MBA in Civic Innovation
This innovative degree was created for those interested in innovating within government and large NGOs.